Who We Are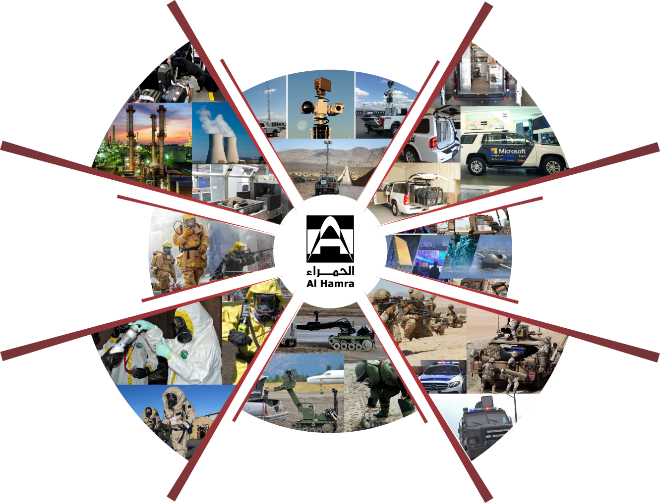 Al Hamra Trading Establishment
was established in 1982 and is today a leading national security and defense organization with over 37 years of experience and a highly qualified and experienced team to provide integrated security solutions of the highest quality standards for clients in the public and private sectors through agreements covering more than 30 global factory specializing in providing security and military equipment. It is also a reliable partner of the state, agencies and companies in the field of design, construction, integration and manufacturing of security support mechanisms and special tasks and others through fully equipped workshops with an area of 5000 square meters
Unlimited ambition
This was not the case before the Establishment's leadership and restructuring took place in January 2016. It recognized the importance of developing the security and defense sector in the organization and moving it to phases to meet challenges in the region.
This has led to the provision of integrated security and military solutions that apply the latest technology to meet the ongoing needs of its customers to overcome the security challenges they face.
Since Al Hamra Trading Establishment is a partner that enjoys the trust of the state, strategic partners, agencies and local and international companies, it distinguishes it among the companies that provide integrated security solutions through its commitment to apply the highest quality standards for its various projects in securing vital installations, cities, urban centers, transportation centers, geographical borders, events and others. In its strategy, it also pursues continued support for its government and private sector partners.
Recognizing the importance of continuous innovation
Today, the Foundation has launched a wide range of world-class services across its branches and partners to more than 20 countries in the Middle East and Africa to adopt innovative ideas that result in innovative projects that serve the security and defense sector.
SUSTAIN the safety and security in the region through our 37 years of experience
APPLY the latest technology
FOCUS on providing innovative solutions for our customers
ENSURE that our commitments delivered to our customers with the highest quality standards